Overview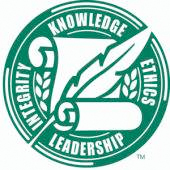 In the 1970's, a group of educators banded together to transform education using new fundamentals. They had observed that conventional schools were failing too many bright students. These educators were committed to making a difference. That difference is Delphian. At Delphian, you won't find teachers lecturing while students rotely take notes. You will find students actively engaged in learning, studying independently and moving at the speed that is right for them. You'll see lively one-on-one and small group discussions on works of literature, art, business, science or current events. You'll see students creating clay models to explain and demonstrate a concept, a student giving a presentation on his apprenticeship experience or a topic he's just researched, and students heading to the science lab or out into the world to test or explore a theory. The Delphi Program is designed to help students relate what they're learning to how they will use this information to succeed in life. Our students live their education from the moment they walk into our school. Our faculty excel at keeping students motivated and on track with their studies, and you can rest assured that each student receives highly personal attention—every academic program is individually designed to best cater to that student's academic needs and interests. Each student at Delphian is treated as an individual, and we seek to help all of them find their own purpose and use for their education. Some things you have to see to believe. Delphian is one of them. Contact us to schedule a visit and experience Delphian for yourself.
Academics
Summary: Delphian emphasizes applied knowledge and the ability to study independently. Credit is earned through demonstration of ability and mastery of materials studied. Graduation requires of every student proven skills in critical thinking, ethics, communication, teamwork and leadership; hundreds of hours of self-generated projects covering several major ability zones; and solid grounding in the traditional academic subjects with an emphasis on classic literature. Reason, creativity and integrity, in conjunction with free and open inquiry, are given the highest priority in all areas and levels of the program.
Department Director Jordan Siegel
Student/Teacher Ratio: 1:15
Average Class Size: 10
Summer Programs: Offered
Full Time Teachers: 19
Number of AP Courses Offered: 9
Teachers Holding Advanced Degrees: 0%
Number of IB Courses Offered: 0
Learning Support
Evening Study Assistance
Peer Tutoring
Study Skills Assistance
Technology Center
English
Classics
Creative Writing
Honors
Literature
Poetry
History
Asian History
Classical History
European History
Honors
Medieval History
United States History
World History
Foreign Languages
Religion / Philosophy
Ethics
Moral Philosophy
Mythology
Philosophy
Religious Studies
Social Justice
World Religions
Humanities / Social Sciences
Sciences
Anatomy
Astronomy
Biology
Botany
Chemistry
Earth Science
Electronics
Geology
Health
Marine Biology
Microbiology
Physical Science
Physics
Physiology
Math
Computer Studies
Computer Applications
Multimedia
Computer Programming
Computer Science
Web Design
Music
Choral Music
Composition
Individual Instructions
Music History
Music Theory
Orchestra
Songwriting
Voice
Performing / Visual Arts
Special Programs
Community Service
Personal Finance
Independent Study
Internships
Leadership
Outdoor Education
Campus Life
Dorm Life
Number of Dorms: 10
Average Students Per Dorm: 25
Number of Girls Dorms: 5
Number of Boys Dorms: 5
Dorm Amenities
Game Room
Laundry Facilities
Lounge
Vending Machines
Wireless Internet
Other Dorm Amenities
Recreation Room; Theater; Music Rooms; Climbing Wall; Gym
Student Life
The Delphian community takes care to make everyone feel welcome—after all, it's their home, too. Much of Delphian's success is based on the team spirit of our community as a whole. We emphasize integrity and open communication between students, faculty and staff, as well as in the parent-school-student relationship. A key to the success of our boarding program, which has been lauded as "a model residential program," is the robust participation of our students in student council. All Upper and Middle School students are required to hold positions of responsibility on their respective student councils as part of their academic programs. Student council members do much of the weekend activity planning, but they also coordinate community service activities, help with tutoring in local schools, give tours to prospective families, assist with the school's social media, support our athletics teams, assist in the library and run study halls, make films for internal and external promotion, and tackle countless other positions of responsibility that help the school run smoothly. Delphian's student council is a fully functioning organizational body that is essential to our school's daily activity and a vital part of each student's educational program.
Facilities
All-Weather Track
Baseball Field
Basketball Court
Fitness Center
Indoor Basketball Court
Indoor Climbing Wall
Technology Center
Volleyball Court
Other Facilities
Tennis Courts
Cross-country Trails
Yoga/Dance Room
Weightlifting Room
Cross-fit Facilities
Clubs & Organizations
Chess Club
Community Service
Computer Club
Debate Club
Dorm Proctors
Drama Club
Environmental Club
Foreign Language Clubs
Gardening Club
Habitat for Humanity
International Club
Math Club
Model UN
Newspaper
Peer Counseling
Peer Tutoring
Photography Club
Science Fiction Club
Scouting
Skateboarding Club
Snowboarding Club
Student Activities
Student Government
Theater Club
Weightlifting Club
Woodworking Club
Yearbook
Yoga Club
Arts & Athletics
Summary: Delphian views the soccer field or volleyball court as yet another avenue to help our students to apply what they're learning in the academic course room to their daily lives. We see challenge as opportunity for growth. This is why we require all Middle and Upper School students to participate in interscholastic sports teams, so they can face new challenges and increase their potential as individuals, team members and leaders. Discipline is a key component of any sports program; likewise hard work from every player. Delphian's athletic program emphasizes both of these, as well as participation and sportsmanship. Delphian teams often win sportsmanship trophies from their league or tournament competition and are widely known for it. While each year is different, several of the school's teams regularly participate in district and state playoffs, and some teams have won the state championships. Delphian students can participate in a wide variety of interscholastic sports including soccer, volleyball, cross-country, basketball, tennis, track and field, and in certain years, baseball and softball. All Delphian students are required to play on at least one junior varsity or varsity team before graduation. Delphian's team sports program is flanked by elective individual sports and other recreational activities including yoga, conditioning, running, weight training, snowboarding, skiing, swimming and hiking.
Arts Department Director: Adam Whitworth
Athletics Department Director: Brandon Lidgard
Notable Achievements: Multiple State Titles/Placement Varsity Choir; Multiple State Titles/Placement Varsity Soccer; Multiple State Titles/Placement-Varsity Volleyball
Arts
Interscholastic Sports
Basketball
Cheerleading
Cross Country Running
Soccer
Softball
Tennis
Track and Field
Volleyball
Recreational Sports
Aerobics
Bowling
Camping
Dance
Equestrian
Hiking
Horseback Riding
Kickball
Mountain Biking
Outdoor Education
Paddle Tennis
Rafting
Rock Climbing
Skateboarding
Snowboarding
Soccer
Swimming
Tennis
Weight Lifting
Yoga
Graduates
Summary: Our graduates leave Delphian ready to take on any challenge. For many, it's college; for others, the arts. Some of our graduates tap into their entrepreneurial spirits to launch their own independent businesses. You'll also find our alumni putting their skills to work in service efforts aiding the greater community. No matter what path our graduates choose, they are ready to take it head-on. Delphian School graduates are regularly admitted to their first-choice colleges. Delphian graduates have been accepted to such highly regarded colleges and universities as diverse as they are.
College Information
Percentage of graduates who attend college: 98%
| Middle Percentile of SAT Scores | Reading | Math | Writing |
| --- | --- | --- | --- |
| 25th percentile | | | |
| 75th percentile | | | |
Notable Alumni
Sky Dayton
Class of 1986
Founder of Earthlink
Melissa McPhail
Class of 1989
Author
Sylvan Lionni
Class of 1986
Artist Professor
David O'Donnell
Class of 1992
Actor
Arwen Elys Dayton
Class of 1990
Author
Vanessa Prager
Class of 2002
Artist
Callan Stokes
Class of 2000
Stylist
Courtney Ryan
Class of 2004
Cinematographer and Photographer
Drew Harrison
Class of 1999
Cameraman and Director
Summer Programs
Summary: Summer at Delphian's program balances academic basics and a wide variety of elective offerings with varied and challenging outdoor activities and cultural experiences in a three to six week summer program. Summer at Delphian is a day and residential summer camp program for children ages 5-18, with boarding available to campers 8 years of age and older. Over 250 courses and classes are offered each summer. Students can get ahead or brush up in specific school subjects. Most importantly, students are introduced to our uniquely effective study methods. In one summer, a young person can learn how to study any subject – a skill that will last a lifetime. Balancing our comprehensive academic program are a wide variety of fun and age-appropriate afternoon camps including Science Camp, Fine Art Camp, Outdoor Camp and more. Weekends include camping, rafting, beach trips* and sightseeing. Weekend adventures are additional highlights of a summer program that take full advantage of Oregon's beautiful summer climate and the cultural and scenic riches of the Pacific Northwest. *Trips are subject to change to on campus trips based on travel and safety guidelines.
Department Director: Bridgette Rappoport
Summer At Delphian
Description: Summer at Delphian's program balances academic basics and a wide variety of elective offerings with varied and challenging outdoor activities and cultural experiences. Summer students arrange their four to six-week summer program based on the schedule that works best for them.
Director: Bridgette Rappoport
Application Deadline: June 1, 2023
Start Date: 2023-06-25
End Date: 2023-08-05
Tuition From: 4938
Tuition To: 10100
Website: https://www.delphian.org/start-here/summer-camp
Boarding:
Financial Aid Available: No
Merit
Merit Scholarships: Offered
Students Receiving Merit Scholarships: 2%
Average Merit Scholarship: 5,660
Current Endowment Amount: $2,279,077
School Events
Open House for Prospective Families:
Sunday Nov 14 2021 - Sunday Nov 14 2021
01:00:00pm - 02:30:00pm