St. Margaret's School (VA)
Overview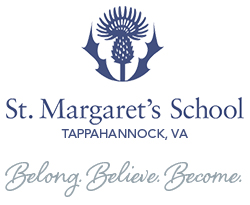 St. Margaret's is a boarding and day school for girls with a welcoming, diverse international community. Girls, grades 8–12, and postgraduate know they belong here, are challenged to believe in themselves, and prepared to become their best. We inspire girls to reach their full potential and make a better world. On the banks of the Rappahannock River, St. Margaret's historic campus is home to our inclusive community of nearly 120 girls from across the United States and around the world. Maria José from Mexico says SMS is, "fantastic and helped me learn to live on my own." Marilyn from class of 2015 is now a senior at the Univ. of South Carolina. She thanks the staff and teachers for, "making me prepared and confident going into college," and feels like she is "ahead of a lot of my other peers." With a diverse community, solid college-preparatory program, and a wide range of interscholastic sports, clubs, and after school activities, life at St. Margaret's is fun, full of learning opportunities, and the relationships formed here last a lifetime. Founded in the Episcopal tradition, St. Margaret's raises and educates girls to develop their strengths in every aspect of life, academically, physically, spiritually and emotionally. Nhi from Vietnam attended SMS four years, graduating in 2017. Our co-curriculum that focuses on diversity and cultural enrichment helped her become, "a more well-rounded individual." Student leaders help run the school and ensure life on campus is supportive, inspiring, and enriching. Ronajah from the class of 2015 says her experience at SMS, "set her up for leadership" in college and life. SMS offers girls, "a great opportunity to understand who they are and what they are meant to be in the world." Arianna graduated in 2017 and is now studying public health at the College of New Jersey. She says SMS "made me the person I am today." She is excited for her younger sister who is now attending St. Margaret's and having a good time. Discover what a girl becomes at St. Margaret's School by contacting our Office of Admission. We welcome your questions about our programs, affordability, and how a girl can benefit from the St. Margaret's experience.
Academics
Summary: St. Margaret's offers girls in grades 8–12 and in a postgraduate year a sound liberal arts education. Our college-preparatory curriculum is individually designed to be both challenging and supportive to each student, including for girls with autism who are studying at grade level and planning to attend college. Course selection and placement are based on the student's aptitude, skills, previous expectations and achievements, and interests. AP, Honors courses, and electives round out the curriculum. Our postgraduate program is designed for the individual girl to support her academic needs, build her leadership skills, help her experience real-world opportunities through independent study and internships, and strengthen her overall well-being.
Department Director ViAnn Farmer
Student/Teacher Ratio: 6:1
Average Class Size: 10
Summer Programs: Not Offered
Full Time Teachers: 20
Number of AP Courses Offered: 12
Teachers Holding Advanced Degrees: 65%
Number of IB Courses Offered: 0
Learning Support
Evening Study Assistance
Learning Center
Learning Differences Support
Peer Tutoring
Study Skills Assistance
Subject Tutoring
Technology Center
Writing Center
ADD/ADHD Support
English
Classics
Creative Writing
Honors
Literature
Poetry
History
European History
Honors
Medieval History
United States History
World History
Foreign Languages
Latin
Spanish
English as a Second Language
Religion / Philosophy
Ethics
The Bible
World Religions
Humanities / Social Sciences
Sciences
Anatomy
Astronomy
Biology
Chemistry
Earth Science
Ecology
Environmental Science
Health
Marine Biology
Physical Science
Physics
Math
Algebra
Calculus
Geometry
Trigonometry
Computer Studies
Computer Applications
Computer Science
Robotics
Music
Choral Music
Music History
Voice
Performing / Visual Arts
Art History
Ceramics
Drama
Drawing
Fashion Design
Studio Art
Theater History
Special Programs
Community Service
Exchange Programs
Independent Study
Leadership
Campus Life
Dorm Life
Number of Dorms: 3
Average Students Per Dorm: 40
Number of Girls Dorms: 3
Number of Boys Dorms: 0
Dorm Amenities
Laundry Facilities
Lounge
Wireless Internet
Other Dorm Amenities
Kitchen
Student Life
St. Margaret's supports students' overall well-being and helps them establish a balanced lifestyle that includes time for both work and fun. By participating in after-school activities, girls also develop skills that are typically not addressed in the classroom, such as physical and social skills.
Facilities
Baseball Field
Basketball Court
Fitness Center
Indoor Basketball Court
Pool
Volleyball Court
Tennis Courts
Cross Country Trails
Other Facilities
River Program for Boating; Swimming; Tubing; Kayaks; Jet Ski; Paddleboards; and Canoes
Clubs & Organizations
Community Service
Dorm Proctors
Environmental Club
Foreign Language Clubs
Honor Council
Literary Magazine
National Honor Society
Newspaper
Peer Counseling
Photography Club
Student Activities
Student Government
Student Publications
Yearbook
Yoga Club
Arts & Athletics
Summary: Arts Program Our Arts program nurtures and develops highly creative artistic personalities who are educated and skilled in the visual and performing arts. Music, voice, drama, dance, drawing, painting, photography, mixed media, ceramics, and more are all artistic forms of expression you may pursue at St. Margaret's through our curriculum and student clubs. In-class instruction and mentoring, individual instruction, and after-school activities offer many ways for students to creatively express themselves, try new things, and discover their interests. In addition, our student artists enrich the surrounding community by participating in art-themed service projects, performances, and local contests. Athletics Program We coach and support student-athletes to Be St. Margaret's; to become part of a team and belong to something bigger than themselves. To believe in what they can achieve and not be afraid to fail. To push themselves to become better people, better students, better teammates, and skilled athletes who are prepared to succeed in life. Whether you're preparing for college athletics or just looking to try something new, there are plenty of opportunities here for you to push yourself and have fun.
Arts Department Director:
Athletics Department Director: Cynthia Walker
Arts
Art History
Ceramics
Drama
Drawing
Fashion Design
Studio Art
Theater History
Interscholastic Sports
Basketball
Cross Country Running
Field Hockey
Soccer
Softball
Track and Field
Volleyball
Recreational Sports
Aerobics
Basketball
Camping
Canoeing
Cross Country Running
Field Hockey
Hiking
Kayaking
Sailing
Soccer
Softball
Tennis
Volleyball
Graduates
Summary: St. Margaret's college counseling is successful in helping students get into college while also giving them the skills they need to successfully complete their higher education. Guidance is offered to all grades, from preparing students for standardized tests to visiting colleges. Next Steps is the feature opportunity of the college advising program at SMS where students experience colleges and the application process up close and personal. They tour college campuses in the Mid-Atlantic and Virginia, learn from professionals in admissions offices about how to prepare their application, practice drafting a college essays, prepare a resume, create their Common Application and work with a top-rated test prep company to prepare for the SAT exam.
College Information
Precentage of graduates who attend college: 100%
| Middle Percentile of SAT Scores | Reading | Math | Writing |
| --- | --- | --- | --- |
| 25th percentile | 420 | 460 | 470 |
| 75th percentile | 550 | 540 | 570 |
College attended in the past 5 years by our graduates:
Merit
Merit Scholarships: Offered
Students Receiving Merit Scholarships: 2%
Average Merit Scholarship: 5,000
Current Endowment Amount: $5,500,000