Overview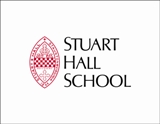 Stuart Hall School, one of the oldest Episcopal Schools in the U.S., is a co-ed boarding school for students in Grades 8-12, located in Staunton, Virginia. Through our mastery learning program, students master the skills needed for life in high school and beyond. Rooted in the core competencies of Well-Being, Critical Thinking, Creativity, Citizenship, Collaboration, and Communication, our curriculum is designed to develop curious creative students who are ready to make lasting contributions to their community. Our project-based, placed-based learning approach develops students who are independent, motivated, resilient, and self-directed, and our holistic focus promotes physical, social, and emotional well-being. Outside the classroom, students can explore the small, safe town of Staunton and enjoy the rich arts, history and outdoor activities that the Shenandoah Valley offers.
Academics
Summary: 100% college placement Mastery Learning program
Department Director Sharon Young
Student/Teacher Ratio: 8:1
Average Class Size: 12
Summer Programs: Not Offered
Full Time Teachers: 31
Number of AP Courses Offered: 15
Teachers Holding Advanced Degrees: 1%
Number of IB Courses Offered: 0
Noteworthy Information:
Dual Enrollment courses with Mary Baldwin College (MBC) and option to take cources at MBC.
English
Creative Writing
Honors
Literature
Playwriting
History
European History
Honors
Medieval History
United States History
World History
Foreign Languages
Religion / Philosophy
Moral Philosophy
Philosophy
World Religions
Sciences
Biology
Chemistry
Earth Science
Environmental Science
Physical Science
Physics
Math
Computer Studies
Music
Choral Music
Composition
Music Appreciation
Music History
Music Theory
Orchestra
Performing / Visual Arts
Special Programs
Community Service
Independent Study
Internships
Leadership
Outdoor Education
Distinctive or New Programs
Campus Life
Dorm Life
Number of Dorms: 8
Average Students Per Dorm: 15
Number of Girls Dorms: 6
Number of Boys Dorms: 2
Dorm Amenities
Game Room
Laundry Facilities
Lounge
Vending Machines
Wireless Internet
Other Dorm Amenities
Kitchens
Student Life
Our Residence Life Program at Stuart Hall School takes the college-preparatory experience one step further by introducing students to campus living. Our students enjoy the freedom of living in a safe, small town where local coffee shops, restaurants, stores, farmers' markets, and other points of interest are just blocks away from our historic campus. In-town boarding provides a venue like no other to learn valuable skills of personal initiative, community living, and respect for local culture. While always maintaining the utmost standards for student safety and care, we encourage our boarders to both experience life beyond our campus boundaries and take part in the life of the School.
Facilities
Basketball Court
Fitness Center
Indoor Basketball Court
Technology Center
Volleyball Court
Other Facilities
Clubs & Organizations
Astronomy Club
Chess Club
Community Service
Computer Club
Debate Club
Dorm Proctors
Environmental Club
Food Council
Honor Council
Horseback Riding
International Club
Literary Magazine
National Honor Society
Newspaper
Peer Tutoring
Photography Club
Student Activities
Student Government
Student Publications
Theater Club
Yearbook
Yoga Club
Arts & Athletics
Summary: Our location in Staunton, Virginia, means that Stuart Hall students have many opportunities to explore the arts. Students can display their original artwork in a local gallery, perform with professional actors on the stage of the Blackfriars' Playhouse, or attend a world-class strings concert with the Heifetz Institute.
Arts Department Director: Jeremy West
Athletics Department Director: John Duncan
Arts
Interscholastic Sports
Basketball
Cross Country Running
Golf
Soccer
Volleyball
Recreational Sports
Cheerleading
Cross Country Running
Dance
Golf
Hiking
Lacrosse
Paddle Tennis
Snowboarding
Soccer
Swimming
Tennis
Volleyball
Weight Lifting
Graduates
Summary: Our College Counseling program focuses on personal attention throughout the college process to help students and parents navigate what can often seem an overwhelming process. We get to know every student personally, meeting with them frequently and conferring regularly with their teachers and parents. Additionally, we encourage students to engage in a process of self-discovery through self-inventory exercises, reflection, and introspection. Together, we build a customized application strategy for each student that takes into account their personality, passions, interests, and academic performance.
College Information
Percentage of graduates who attend college: 95%
| Middle Percentile of SAT Scores | Reading | Math | Writing |
| --- | --- | --- | --- |
| 25th percentile | 490 | 480 | 500 |
| 75th percentile | 660 | 670 | 620 |
College attended in the past 5 years by our graduates:
Harvey Mudd College:
New York University:
Purdue University:
College of William and Mary:
Cornell University:
Duke University:
Notable Alumni
Juliette Gordon Low
Class of 1879
Founder of the Girl Scouts
Marijane Meeker
Class of 1945
Publishes as M.E. Kerr winner of the ALA Margaret Edwards Award
Annette Smith Parker
Class of 1969
Vice President Dickinson College
Anne McCaffrey
Class of 1944
Winner of both the Hugo and Nebula Awards
Denise Wooldridge
Class of 1976
An executive at Kraft Foods
Kelly Driscoll
Class of 1996
Alum of and Faculty of Rhode Island School of Design
Dejon Mayberry
Class of 1947
Speech writer for Pres. Gerald Ford
Quotes From Alumni
"I arrived at Duke with assurance curiosity and a foundation that will serve me for life."
-Katherine McIlwaine, Class of 2004, Graduate Duke University currently at Columbia Law School
"Stuart Hall is a learner's paradise."
-Robin Day, Class of 2006, Double major Economics and Sociology UVa
"In short it is the many and varied experiences one can have at Stuart Hall that shape us into the people we will become."
-October Edwards, Class of 2009, Valedictorian Stuart Hall Class of 2006