Sun Valley Community School
Overview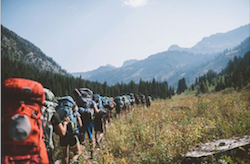 Sun Valley Community School is an independent Pre-K-12 boarding and day school located on 40 acres across three campuses in iconic Sun Valley, Idaho. Enrolling 180 students in our Upper School, we combine an outstanding academic program with a renowned outdoor program, preparing our students to go "from here...anywhere." Our highly personalized approach to college counseling ensures that students are accepted to the best colleges and universities; More importantly, graduates find the ideal fit for the next step of their journey. Our Outdoor Leadership Academy, Creative Arts Academy, and Sun Valley Ski Academy provide the classroom support and flexibility for our students to be able to pursue their outdoor, winter sport, and artistic ambitions at the highest level. Sun Valley is a mecca for outdoor enthusiasts and brimming with culture and the arts; Residents live for adventure and enjoy a balanced lifestyle in this small, supportive and exciting mountain town.
Academics
Summary: Sun valley community school has two full time co-directors of college counseling on staff: chauncy gardner and royce mussman.
Department Director Kevin Campbell
Student/Teacher Ratio: 8:1
Average Class Size: 13
Summer Programs: Offered
Full Time Teachers:
Number of AP Courses Offered: 0
Teachers Holding Advanced Degrees: 67%
Number of IB Courses Offered: 0
Learning Support
Learning Differences Support
English
Classics
Creative Writing
Honors
Literature
Poetry
History
European History
Honors
United States History
World History
Foreign Languages
Religion / Philosophy
Humanities / Social Sciences
Sciences
Astronomy
Astrophysics
Biology
Chemistry
Ecology
Environmental Science
Geology
Physical Science
Physics
Math
Computer Studies
Computer Applications
Computer Programming
Computer Science
Music
Individual Instructions
Recording
Songwriting
Voice
Performing / Visual Arts
Special Programs
Community Service
Exchange Programs
Independent Study
Leadership
Outdoor Education
Campus Life
Dorm Life
Number of Dorms: 2
Average Students Per Dorm: 20
Number of Girls Dorms: 0
Number of Boys Dorms: 0
Dorm Amenities
Game Room
Laundry Facilities
Lounge
Wireless Internet
Other Dorm Amenities
Facilities
Basketball Court
Fitness Center
Indoor Basketball Court
Other Facilities
Clubs & Organizations
Community Service
Debate Club
Dorm Proctors
Environmental Club
Model UN
Outing Club
Student Activities
Student Government
Student Publications
Theater Club
Yearbook
Arts & Athletics
Arts Department Director: Anne Aganon
Athletics Department Director: Richard Whitelaw
Arts
Interscholastic Sports
Basketball
Cross Country Running
Golf
Mountain Biking
Outdoor Education
Soccer
Tennis
Track and Field
Volleyball
Recreational Sports
Alpine Skiing
Alpine Ski Racing
Camping
Figure Skating
Freestyle Skiing
Hiking
Horseback Riding
Ice Hockey
Mountain Biking
Nordic Skiing
Outdoor Education
Rafting
Rock Climbing
Snowboarding
Tennis
Ice Skating
Graduates
Summary: Sun Valley Community School has two full time Co-Directors of College Counseling on staff: Chauncy Gardner and Royce Mussman.
College Information
Percentage of graduates who attend college: 100%
| Middle Percentile of SAT Scores | Reading | Math | Writing |
| --- | --- | --- | --- |
| 25th percentile | | | |
| 75th percentile | | | |
College attended in the past 5 years by our graduates:
Washington University, St. Louis:
1
Wake Forest University:
2
University of Southern California:
3
University of Virginia:
2
University of Redlands:
1
University of Washington:
2
University of Pennsylvania:
1
University of Portland:
3
University of Puget Sound:
3
University of Idaho, Honors:
1
University of Edinburgh:
1
University of British Columbia, Okanagan:
1
University of Colorado, Boulder:
6
Texas Christian University:
2
St. Lawrence University:
5
Southern Methodist University:
2
Rutgers University, Mason Gross School of the Arts:
1
Santa Clara University:
1
Rocky Mountain College:
1
Pace University, New York:
2
New York University, Shanghai:
1
Boise State University:
2
Franklin University, Switzerland:
1
Merit
Merit Scholarships: Offered
Students Receiving Merit Scholarships: 5%
Average Merit Scholarship: 8,128
Current Endowment Amount: $8,000,000