Overview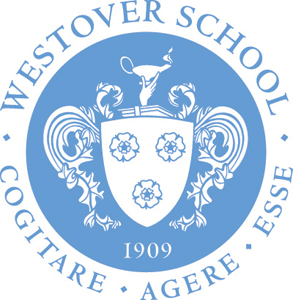 Westover empowers young women to lead lives of consequence. Each day we live our core values of community strength of character passion for learning and women's empowerment. We are a school where girls are comfortable taking risks where they don't worry about looking silly and where they feel completely free to be themselves.
Academics
Summary: A Westover School education means embracing intellectual challenge in a close-knit community. It means learning in small classes from inspired teachers who care about you, get to know you as a person, and involve you in your education. It means having the opportunity to explore--to build on your strengths, uncover new ones, discover what you like and where you excel. It means engaging with subjects and people and activities and ideas that help you understand the world in new ways. And it means learning the way girls learn best--in a supportive all-girls environment that has proven its effectiveness in promoting academic achievement.
Department Director Benjamin Hildebrand
Student/Teacher Ratio: 8:1
Average Class Size: 11
Summer Programs: Offered
Full Time Teachers: 31
Number of AP Courses Offered: 24
Teachers Holding Advanced Degrees: 69%
Number of IB Courses Offered: 0
English
Creative Writing
Literature
Poetry
History
Classical History
European History
Medieval History
United States History
World History
Foreign Languages
Humanities / Social Sciences
Sciences
Astronomy
Biology
Botany
Chemistry
Environmental Science
Genetics
Health
Physics
Math
Computer Studies
Computer Programming
Computer Science
Web Design
Music
Choral Music
Composition
Individual Instructions
Music Appreciation
Music History
Music Theory
Opera
Voice
Performing / Visual Arts
Special Programs
Community Service
Exchange Programs
Independent Study
Internships
Leadership
Distinctive or New Programs
Campus Life
Dorm Life
Number of Dorms: 1
Average Students Per Dorm: 0
Number of Girls Dorms: 1
Number of Boys Dorms: 0
Dorm Amenities
Laundry Facilities
Lounge
Vending Machines
Wireless Internet
Other Dorm Amenities
Student Center Across from Dorms
Student Life
On Friday nights, girls can watch television with their dorm parent, take a shuttle to a nearby mall, visit with a teacher who lives on campus, or just hang out with friends. Sometimes there are cultural programs on campus such as a musical performer, an artistic presentation, or another form of entertainment. On Saturday, after art classes and athletic games, students can attend social events held at Westover or other area schools, including boys' schools and co-ed schools. The social events offered include dances, movie nights, and club or class sponsored activities such as the Senior Carnival and Westover's COLORES Festival. Faculty and students alike all look forward to Sunday brunch; it is truly a spectacular treat. While most students spend Sundays relaxing, studying and preparing for the school week, there are often day trips to amusement parks and shopping plazas offered.
Facilities
Basketball Court
Fitness Center
Indoor Basketball Court
Indoor Climbing Wall
Technology Center
Volleyball Court
Squash Court
Tennis Courts
Other Facilities
Clubs & Organizations
Amnesty International
Animal Rights Club
Asian Club
Astronomy Club
Chess Club
Community Service
Computer Club
Debate Club
Diversity Club
Dorm Proctors
Environmental Club
Food Council
Foreign Language Clubs
International Club
Jewish Student Organization
Literary Magazine
Model UN
Newspaper
Outing Club
Peer Counseling
Peer Tutoring
Photography Club
Sexualities Club
Student Activities
Student Government
Student Publications
Yearbook
Yoga Club
Arts & Athletics
Arts Department Director: Robert Havery
Athletics Department Director: Tiz Mulligan
Arts
Interscholastic Sports
Basketball
Crew
Cross Country Running
Golf
Lacrosse
Soccer
Softball
Squash
Swimming
Tennis
Volleyball
Recreational Sports
Aerobics
Camping
Canoeing
Dance
Hiking
Kayaking
Outdoor Education
Rock Climbing
Graduates
Summary: The goal of Westover's College Counseling Office is to help all of our girls matriculate at colleges where they will thrive and from which they will emerge prepared to be leaders and agents of change in the world. While students and parents are encouraged to work with the College Office at any time during their years at Westover, we begin the process with several events in the sophomore year. In the junior year we gain intensity as we gather for an eight-week college seminar that is followed by individual meetings. As we continue our journey to find schools that "fit" our students best, we strive to provide individual assistance and to build relationships with students and families.
College Information
Percentage of graduates who attend college: 100%
| Middle Percentile of SAT Scores | Reading | Math | Writing |
| --- | --- | --- | --- |
| 25th percentile | 660 | 620 | 690 |
| 75th percentile | 520 | 610 | 510 |
College attended in the past 5 years by our graduates:
Worcester Polytechnic Institute:
3
University of Pennsylvania:
3
University of Michigan:
3
George Washington University:
4
Notable Alumni
Katherine Woodruff Flanning
Class of 1945
Editor of The Christian Science Monitor from 1983-1988 and Editor and Publisher of The Anchorage Daily News from 1971-1983
Deborah Massey
Class of 1968
Member of the LPGA Golf tour from 1977-1995 LPGA Rookie of the Year in 1977 and two time winner of the Women's British Open Golf Tournament
Dena Simmons
Class of 2001
Associate Director of School Initiatives at Yale Center for Emotional Intelligence TED talker educator and activist
Ginevra King Pirie
Class of 1917
Chicago socialite who was F. Scott Fitzgerald's inspiration for the character of Daisy Buchanan in The Great Gatsby
Sylvia Shaw Judson
Class of 1915
Sculptor creator of Bird Girl" (used on the cover of Midnight in the Garden of Evil) and many other works"
Eunice Strong Groark
Class of 1956
First female Lieutenant Governor of Connecticut from 1991-1995
Ann Vileisis
Class of 1985
Author of the Kitchen Literacy: How We Lost Knowledge of Where Food Comes From and Why We Need to Get It Back and Discovering the Unknown Landscape: A History of America's Wetlands
Amanda Mortimer Burden
Class of 1962
Principal of Urban Planning at Bloomberg Associates and former Director of the New York City Department of City Planning
Katie Hallaran
Class of 2002
Co-Founder and Advisory Board Member at Kinyei a youth focused social enterprise comprised of a cafe and a cycling tour as well as an informal education center and hub for collaboration across cultures and sectors