Overview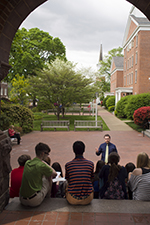 Sem is a suburban school in a small, historic city - Kingston. The student population of 477 is diverse and Sem boasts representation from 20 states and 18 countries. Two-thirds of our faculty live on campus. Nearly all students participate in at least one varsity sport, although athletic participation is not mandatory each season. Sem offers a broad range of extracurricular clubs and activities, and the community service program is part of our graduation requirements. Extensive opportunities are available in performing and fine arts. Sem offers more than 160 courses (including 22 AP), an average class size of 14, challenging electives, and a student/teacher ratio of 8:1. Graduates are accepted to highly competitive colleges and to a range of fine art and music programs. Recent campus upgrades include a new double-turf field stadium with lights, new dormitory furniture, an additional wrestling room, a dedicated STEM lab, improved WiFi and a $16.3 million Kirby Center for Creative Arts that includes a new theater, dance studio, an art gallery and numerous rehearsal spaces. Recent athletic accomplishments include the 2014 Prep National Championship in Wrestling and three subsequent national runner-up finishes, 2017 girls lacrosse PIAA District Two Champions, and the addition of a pilot girls wrestling program and a new varsity crew team. Sem also offers an opportunity for students in grades 8, 9 and 10 not currently enrolled to take part in the Sem Scholarship Program, which awards one full and several half-merit scholarships for both day and boarding students. We invite you to discover more about Sem and see why so many of our students and alumni have found their experience here has prepared them for success now and in the future. "Within an exponentially changing world, Wyoming Seminary dares to teach our students to honor and strive for the true, the beautiful, and the good." -Wyoming Seminary Mission Statement.
Academics
Summary: The Academic Program at Sem is a comprehensive and rigorous course of study that is designed to prepare students for academic success in college while exposing them to a broad based liberal arts education. Students and parents should refer to the current Upper School course catalog for detailed information about graduation requirements and specific course descriptions.
Department Director Lauren Streifer
Student/Teacher Ratio: 8:1
Average Class Size: 14
Summer Programs: Offered
Full Time Teachers:
Number of AP Courses Offered: 24
Teachers Holding Advanced Degrees: 74%
Number of IB Courses Offered: 0
English
Classics
Creative Writing
Honors
Literature
Poetry
History
Classical History
European History
Honors
United States History
World History
Foreign Languages
Religion / Philosophy
The Bible
World Religions
Humanities / Social Sciences
Sciences
Anatomy
Astronomy
Biology
Chemistry
Environmental Science
Health
Ornithology
Physics
Math
Computer Studies
Computer Programming
Computer Science
Music
Choral Music
Composition
Individual Instructions
Music Appreciation
Music History
Music Theory
Orchestra
Soflege/Ear Training
Voice
Performing / Visual Arts
Special Programs
Community Service
Independent Study
Internships
Leadership
Campus Life
Dorm Life
Number of Dorms:
Average Students Per Dorm: 63
Number of Girls Dorms: 0
Number of Boys Dorms: 3
Dorm Amenities
Game Room
Laundry Facilities
Lounge
Wireless Internet
Other Dorm Amenities
Student Life
Musicals, concerts, dances, athletic events, art exhibits, and plays are but a few of the enjoyable events regularly planned at Sem. Highlights of the school year include International Food Night, Sem Dance Marathon and Society Day, when the school's four societies compete in fun events.
Facilities
Baseball Field
Basketball Court
Fitness Center
Football Field
Indoor Basketball Court
Indoor Climbing Wall
Indoor Pool
Other Facilities
Tennis Courts
Turf Fields
Crew Facilities
Softball Field
Two Wrestling Centers
Clubs & Organizations
Chess Club
Community Service
Diversity Club
Dorm Proctors
Drama Club
Environmental Club
Foreign Language Clubs
Honor Council
International Club
Literary Magazine
Math Club
Mock Trial
Model UN
Newspaper
Peer Tutoring
Photography Club
Quiz Bowl
Student Activities
Student Government
Student Publications
Theater Club
Yearbook
Yoga Club
Arts & Athletics
Summary: About 73 percent of our students participate in interscholastic sports, building close friendships, sharing in the discipline of practice and the thrill of competition. The addition of Nesbitt Stadium and the Kirby Center for the Creative Arts have given our athletes and performers top-notch facilities in which to showcase their talents. The arts are just as popular as athletics at Wyoming Seminary. Performance standards are very high in our large and small ensembles. Students are attracted to the high quality programming, and the ability to be both an athlete and an artist at Sem.
Arts Department Director: John Vaida
Athletics Department Director: Karen Klassner
Notable Achievements: 2014 National Prep School Wrestling Champions 7 Men's Hockey Players have played professionally Now offering girls wrestling!
Arts
Interscholastic Sports
Baseball
Basketball
Crew
Cross Country Running
Field Hockey
Golf
Ice Hockey
Lacrosse
Soccer
Softball
Swimming
Tennis
Wrestling
Recreational Sports
Alpine Skiing
Basketball
Camping
Dance
Hiking
Martial Arts
Outdoor Education
Rock Climbing
Skateboarding
Soccer
Softball
Swimming
Table Tennis
Tennis
Ultimate Frisbee
Weight Lifting
Graduates
Summary: College Guidance at Wyoming Seminary guides students on individual journeys of self-knowledge to identify and gain acceptance to appropriate colleges or universities where they can continue to learn and to grow into their best selves. At Sem, we strive to create and implement a process that encourages self-exploration and self-advocacy that facilitates the completion of strong applications representing students' accomplishments, talents and potential, fairly and responsibly. Our goal is for students to gain admission to colleges that match their interests and needs, where they can flourish as students and as individuals. The college guidance process begins in tenth grade.
College attended in the past 5 years by our graduates:
Community College of Baltimore County:
1
University of Arkansas:
1
Arizona State University:
1
Penn State University:
30
The George Washington University:
6
University of Pennsylvania:
14
University of Virginia:
1
Mass. Institute of Tech.:
1
University of Michigan:
2
University of Notre Dame:
1
University of Southern California:
3
United States Air Force Academy:
1
United State Military Academy:
2
United States Naval Academy:
13
Washington University-St. Louis:
2
Bloomsburg University of PA:
1
California Institute of the Arts:
2
Case Western Reserve University:
1
Catholic University of America:
1
University of Central Florida:
1
University of Cincinnati:
1
University of Colorado, Boulder:
1
Concordia University, Montreal:
1
Columbia College Chicago:
1
University of Connecticut:
2
Davis & Elkins College:
2
Evergreen State University:
1
Florida Southern College:
1
George Washington University:
4
Hobart and William Smith Colleges:
4
University of Illinois, Urbana-Champaign:
2
Indiana University, Bloomington:
3
Indiana University of PA:
1
James Madison University:
1
University of Kentucky:
1
Long Island University, Post:
1
Loyola Marymount University:
1
Louisiana State University:
1
Loyola University Chicago:
1
Maryland Institute College of Art:
2
University of Maryland College Park:
1
University of Massachusetts Amherst:
1
Miami University, Oxford:
2
University of Mississippi:
3
Montana State University, Bozeman:
1
University of Montana, Western:
1
Montgomery College, Rockville:
1
Mount St. Mary's University:
2
University of New Hampshire:
1
Ohio Wesleyan University:
1
University of the Pacific:
1
Pennsylvania State University:
5
Queens University of Charlotte:
1
Saint Michael's College:
1
Santa Clara University:
1
Savannah College of Art and Design:
2
Sewanee: University of the South:
1
University of South Carolina, Beaufort:
1
University of Southern Maine:
1
University of South Carolina, Aiken:
1
University of Southern Mississippi:
1
St. John's University, Queens:
1
Stony Brook University:
1
Texas A&M University, Galveston:
1
The Art Institute of Charleston:
1
Texas Christian University:
1
University of Texas, Austin:
1
University College Maastrict:
1
University of St. Andrews:
1
University of Virginia:
1
Washington State University:
1
University of Washington:
3
University of Wisconsin, Stout:
1
Notable Alumni
William S. Merwin
Class of 1944
Named Poet Laureate according to the New York Times Wednesday June 30 2010
Dr. Howard E. Gardner
Class of 1961
Professor Harvard School of Education
Merit
Merit Scholarships: Offered
Students Receiving Merit Scholarships: 12%
Average Merit Scholarship: 9,200
Current Endowment Amount: $66,200